Atlanta Vintage Shop is a branch of GCI. We receive and process 150,000 pounds of used clothing daily and only 1,500 pounds are vintage. From there our vintage team sorts through the vintage clothing items to check them for quality. Based on the quality, item, age, and style each item is priced individually and sorted into one of our 322 vintage categories. Our categories range from band tees to cowboy boots to bathing suits to Levi's jeans.
Book A Shopping Appointment
Shop wholesale vintage clothing in person at our Atlanta, GA facility. Minimums Apply.
Buy Vintage Clothing Bales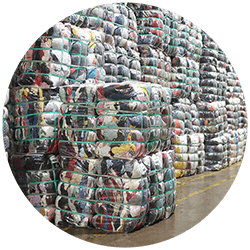 Get vintage clothing bales shipped straight to your door. See what's available and get a shipping quote within 24hrs.
PRODUCT CATEGORIES
Acrylic Sweaters
Leather Knit Sweaters
Cosby Sweaters
Baja Shirts
Champion Reverse Weave
Vintage Printed Sweatshirts & Cartoon Sweatshirts
Plain Sweatshirts
Men's Athletic Mix
Track Tops
Sweat Pants & Track
Ethnic Shirts
Green / Wool Military Shirts
Guayabera
Hawaiian Shirts
Silk Shirts
Flannel Shirts
CPO Shirts Jackets & Coats
Wool Shirts
Acrylic Shirts
Short Sleeve Shirts
Poly Shirts
Denim Shirts
Long Sleeve Shirts
Short Leather Jackets
Short Corduroy Jackets
Leather Motorcycle Jackets
Velvet Blazers & Pants
Corduroy Blazers
Baseball Jackets
REI-LL Bean-Eddie Bauer Mix
Woolrich Mix
Patagonia Mix
Columbia Mix
Ski Jackets
Pro-Team Jackets
Work Jackets
Outdoor Wear Mix
Golf Jackets
Leather Mixed Vests
Ski Vests
Pile Lined Vests
Ethnic Sweaters & Jackets
Denim Vests
Hunting Mix
Lined Nylon Jackets
Members Only
Blazer Mix
90's Urban Mix
Multi-Colored Windbreakers
Coach Jackets
Branded Golf Jackets
Poly Blazers
Tommy Hilfiger Mix
Wool Pants
Poly Pants
Men's Pants Mix
Corduroy Pants
Tuxedo Pants
Work Pants
Shorts Mix
Denim Shorts
Military Pants
Painter Pants
Coveralls
Sweater Vests
Cashmere Sweaters
Ski Sweaters
Wool Sweaters
Western Shirts
R.L. Shirts
Music Tees
Vintage Printed T-Shirts
90's T-Shirts
Tie Dye T-Shirts
Jerseys
Tan-Top / Muscle Shirts
R.L. Polos
Thermal Pants
Rugby Shirts
Men's Leather Pants
Men's Suits
Goose Down Jackets / Vests
Lace Up Work Boots & Roper's Boots
Overalls
Levis Made in USA
Heavy Flannel
Men's Wool Blazer
Men's Trench & Rain Coats
Men's Winter Coats
Men's Leather Jackets- Blazer Coats
50's-60's Skinny Ties
Noverly Ties
Desinger Ties
Knit Ties
Men's Sneakers
Men's Belts
Suspenders
Men's Ankle Boots
Outdoor Boots
Men's Dress Shoes
Motorcycle Boots
Military Boots
Men's Sandals
Men's Western Boots
Plain Western Boots
Military Camo Shirts
Military Camo Pants
Military Jackets
Military Wool Officer Jackets
Levis 517
Levis 550
Levis Mix
Levis 505
Navy Shirts
Navy Pants
Bomber Jackets
Harley Mix
Carhartt Mix
Men's Hats
Knit Caps
Baseball Caps
Military Accessories
Cummerbund & Tuxedo Vests
Faux Fur Coats
Fur Coats
Ladies Corduroy Jackets & Coats
70's-80's Ladies Jackets
Ski Jackets & Vests
Women's Suits
Mixed Vest
Quilted Jackets
Wool Blazers
Cotton, Linen, Poly Blazers
Corduroy Blazers
Velvet Blazers
Rayon & Silk Blazers
Cropped Blazers & Jackts
Short Leather Jackets
80's-90's Denim Jackets
Acrylic Sweaters
Cotton Sweaters
Wool Sweaters
Long Cardigans
80's Sweaters
Mohair/Angora Sweaters
Preppy Sweaters
80's Sweatshirts
Jumpsuits
Christmas Sweaters
Turtle Neck Sweaters
Leather Pants
Silk Pants
Vintage PJs
Cotton / Linen Pants
Cotton / Linen Blazers
Linen Mix
Rayon Pants
Harem Gypsy Pants
Cashmere
Ladies Denim Shorts
Playsuits
Leggings
80's-90's Mixed Pants
Wool Pants
80's-90's High Waisted Jeans
Poly Pants
Silk Skirts
Velvet Skirts
Denim Skirts
Wrap Skirts
Circle Skirts
Night Gowns
Rayon Skirts
Cotton Skirts
Mixed Shorts
Short Poly Dresses
Long Poly Dresses
Lace Mix
Poly Skirts
Leather Skirts & Shorts
Wool Skirts
Corduroy Skirts
Knit Skirts
Denim Dresses
Rayon Dresses
Silk Dresses
80's-90's Winter Dresses
Corduroy Dresses
Cotton Dresses
Shirt Dresses
Party Dresses
Beaded Dresses & Skirts
Metallic Mix
Leather Dresses
Special & Detailed Cardigans
Rayon Blouses
Beaded Tops
Poly Blouses
Denim Blouses
Women's Western Blouses
Navajo Blouses
Silk Blouses
Body Suits
Sexy Cropped Tops
Fur Coats & Jackets
Velour & Flannel Shirts
Cotton Blouses
Ladies Ethnic Jackets
Ethnic Work Dresses
Bohemian Hippie Tops
Hippie Ethnic Skirts
Bikini Tops
See-Through Knit Tops
Bathing Suits
Sleevelss Blouses
70's & 80s L/S T-Shirts
Flannels
T-Shirts
Women's Hats
Women's Boots
Flats
Satin & Silk Jackets
High Heels
Ankle Boots
Sandals
Women's Western Boots
Sneakers
Fall/ Winter Boots
Women's Mixed Coats
Mixed Belts
Black & Brown Belts
Small Handbags
Leather Coats & Blazers
Trench & Rain Coats
Ponchos
Capes
Shawls
Knit Scarves
Fur Accessories
Silk Scarves
Crochet
Vintage Printed Towels
Hammock
Vintage Aprons
Vintage Animated Pillow Cases
Bed Spreads
Vintage Rugs
American Mix
Crimoline
Sexy Lingerie
Vintage Lingerie
Wedding Dresses
Veils
Antique Handbags
Turban & Hair Accessories
Designer Scarves
Chain & Metal Belts
Ethnic Belts
Clutches Coach Handbags
Ladies Short Leather Jackets
Rayon & Silk Blazers
Cropped Blazers & Jackts
Short Leather Jackets
80's-90's Denim Jackets
Acrylic Sweaters
Cotton Sweaters
Wool Sweaters
Long Cardigans
80's Sweaters
Mohair/Angora Sweaters
Preppy Sweaters
80's Sweatshirts
Jumpsuits
Christmas Sweaters
Turtle Neck Sweaters
Leather Pants
Silk Pants
Vintage PJs
Cotton / Linen Pants
Cotton / Linen Blazers
Linen Mix
Rayon Pants
Harem Gypsy Pants
Cashmere
Ladies Denim Shorts
Playsuits
Leggings
80's-90's Mixed Pants
Wool Pants
80's-90's High Waisted Jeans
Poly Pants
Silk Skirts
Velvet Skirts
Denim Skirts
Wrap Skirts
Circle Skirts
Night Gowns
Rayon Skirts
Cotton Skirts
Mixed Shorts
Short Poly Dresses
Long Poly Dresses
Lace Mix
Poly Skirts
Leather Skirts & Shorts
Wool Skirts
Corduroy Skirts
Knit Skirts
Denim Dresses
Rayon Dresses
Silk Dresses
80's-90's Winter Dresses
Corduroy Dresses
Cotton Dresses
Shirt Dresses
Party Dresses
Beaded Dresses & Skirts
Metallic Mix
Leather Dresses
Special & Detailed Cardigans
Rayon Blouses
Beaded Tops
Poly Blouses
Denim Blouses
Women's Western Blouses
Navajo Blouses
Silk Blouses
Body Suits
Sexy Cropped Tops
Fur Coats & Jackets
Velour & Flannel Shirts
Cotton Blouses
Ladies Ethnic Jackets
Ethnic Work Dresses
Bohemian Hippie Tops
Hippie Ethnic Skirts
Bikini Tops
See-Through Knit Tops
Bathing Suits
Sleevelss Blouses
70's & 80s L/S T-Shirts
Flannels
T-Shirts
Women's Hats
Women's Boots
Flats
Satin & Silk Jackets
High Heels
Ankle Boots
Sandals
Women's Western Boots
Sneakers
Fall/ Winter Boots
Women's Mixed Coats
Mixed Belts
Black & Brown Belts
Small Handbags
Leather Coats & Blazers
Trench & Rain Coats
Ponchos
Capes
Shawls
Knit Scarves
Fur Accessories
Silk Scarves
Crochet
Vintage Printed Towels
Hammock
Vintage Aprons
Vintage Animated Pillow Cases
Bed Spreads
Vintage Rugs
American Mix
Crimoline
Sexy Lingerie
Vintage Lingerie
Wedding Dresses
Veils
Antique Handbags
Turban & Hair Accessories
Designer Scarves
Chain & Metal Belts
Ethnic Belts
Clutches Coach Handbags
Ladies Short Leather Jackets
Shirts & Tops
Jumpsuits, Playsuits, Shorts
Women's Pants
Dresses / Skirts
Men's Pants
Women's Jackets
Men Jackets
Free People